Vanilla Cupcake and Vanilla Buttercream Recipes by Purple Cupcakes
We have put together a recipe card for you to keep handy in the kitchen. Including the 2 recipes shown here, chocolate cupcakes, chocolate buttercream and ganache. It also talks about the difference between sugarpaste and florist paste and gives you tips on how to avoid peeling cupcake cases.
Light Fluffy Vanilla Cupcakes
This recipe is for 12 cupcakes which when baked will be perfectly flat.

We don't like to add anything unnecessary to our cakes and therefore all you need is:-

150g Stork (for baking)
150g Caster Sugar
150g Self Raising Flour
3 eggs Large(ish)
1tsp Vanilla Extract by Nielsen Massey


While other recipes you may see add cornflour, bicarb and milk etc, we just don't think our fab tasting recipe needs it – we hope you agree!

Place all ingredients in your mixer (or mixing bowl) and beat slowly until all ingredients are combined. Scrape down the sides and then increase the speed and beat on high for NO MORE than 2 minutes. All ingredients should be combined and you should have a very thick custard type batter.

Use our ice cream scoop to "plop" just the right amount of mixture in the case! Use cupcake cases, not fairy cases and use a deep 12 holed tin for baking. All ovens vary in temperature and baking style so you need to get to know your own oven. A vital piece of equipment is an oven thermometer. We bake our cupcakes at a temperature of 150°. This will ensure the cupcake bakes evenly and with the perfectly flat top. Any higher and you will create peaks (great to know for when you want peaks) but this temperature is perfect and your cupcakes will need about 25-28 minutes.

They should be springy to touch and look golden brown.Transfer them straight away to a cooling rack and leave to cool completely. Check they are cool enough to decorate by placing one on your cheek. If you can't feel any heat – you can decorate. If you do, wait a few more minutes. Never decorate a warm cupcake.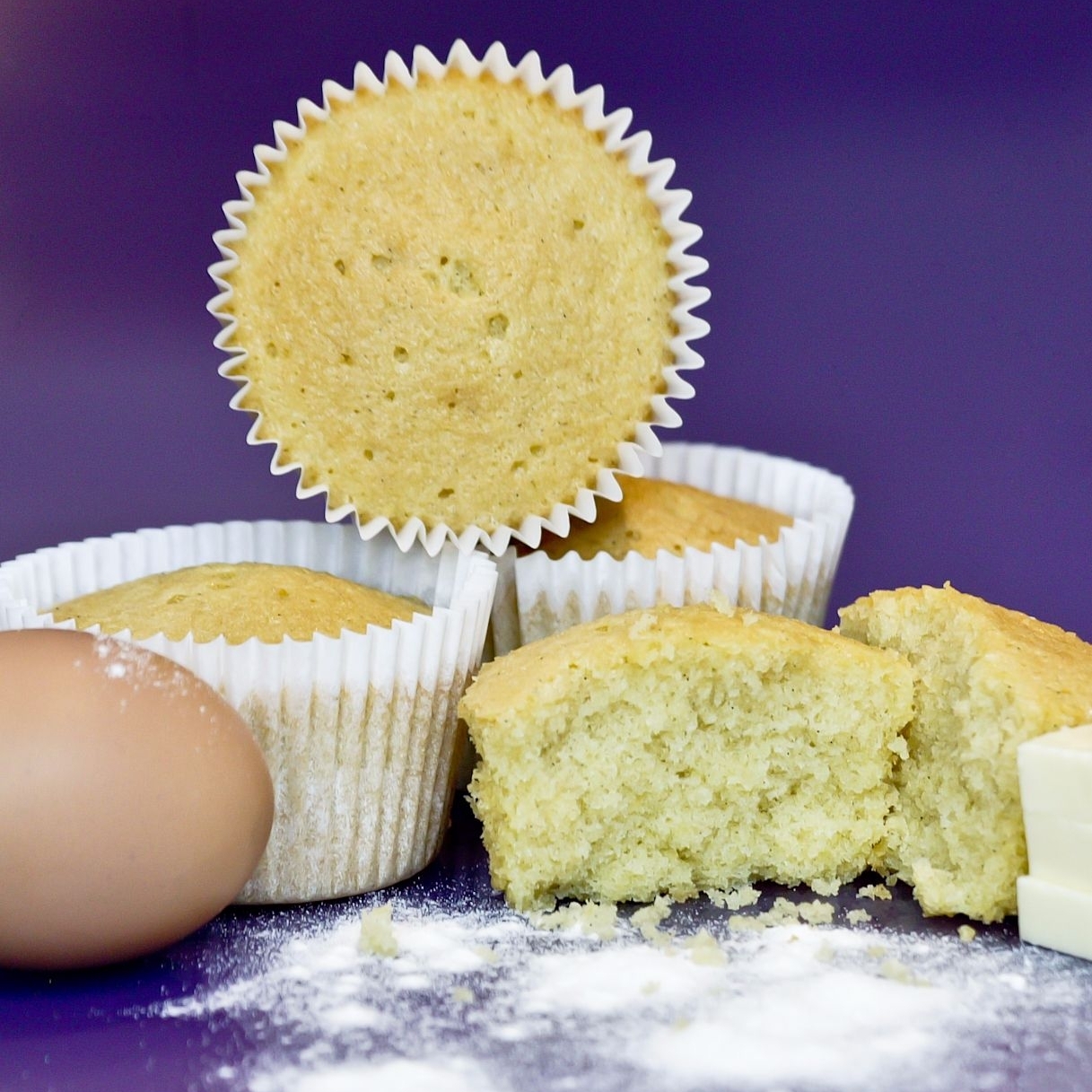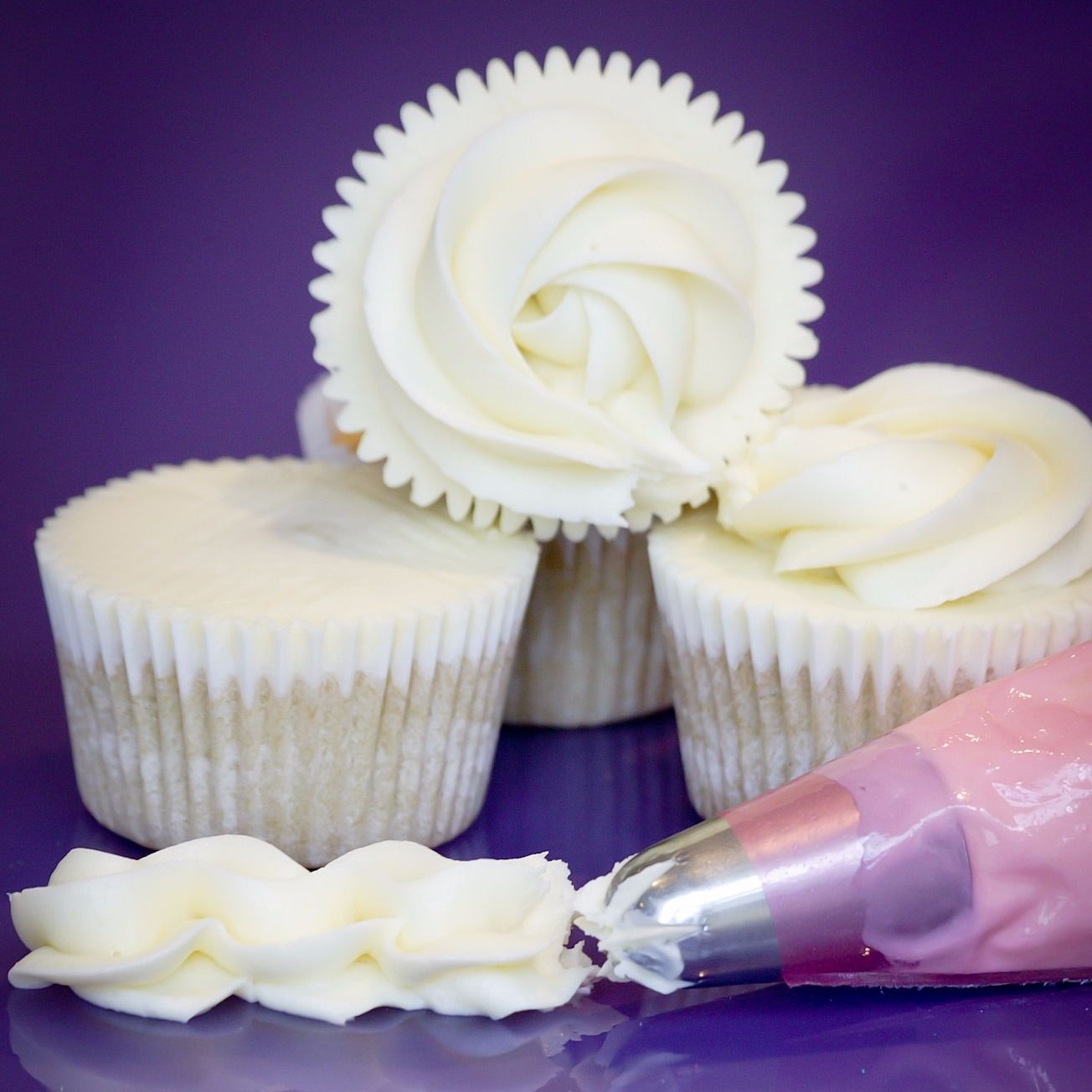 For really smooth, delicious tasting silky looking buttercream, all you need is:-

250g Butter (we prefer slightly salted)
500g Icing Sugar (Unopened box)
1tsp Vanilla Extract by Nielsen Massey
Milk 1tbsp (or as needed)

Ensure the butter is so soft it is just about to melt. You don't want melted butter, but you will get best results when the butter is ultra soft. If needs be, blitz in the microwave for 5 seconds at a time – be careful though!!

Once you have perfectly soft butter, place this in the mixing bowl and beat on high for a good 2 minutes until the butter has gone really pale. We only ever use Lurpak butter. Not only does this give you the palest buttercream if you are trying to achieve a "white" it also tastes the best too!

Add half the bag of icing sugar. Place a damp tea towel over your bowl and beat slowly until the sugar has been combined. Now beat higher until all well combined and the butter has lost some its' colour for a whiter buttercream.

Scrape down the side and add remaining sugar. Beat slowly until all combined, add the vanilla extract and then beat until completely smooth. At this stage your buttercream may need some milk to get the required texture and smoothness. Add 1tbsp only to begin with and then add very gradually after that until you are happy with the consistency. If you are colouring your buttercream, you can now add paste colour to achieve the required shade. Don't add liquid colours as this will further alter the consistency of the buttercream.

Smooth onto your cupcakes using a palette knife for a flat top. Place in a piping bag to decorate cupcakes with swirls. Enjoy xx